Meeting an Industry Leader: Preston Bailey
 If you haven't heard of Preston Bailey, then you're missing out. Bailey is a premier event designer out of New York City and has 35 years of experience in the industry. He is known world-wide and has planned luxurious weddings for people like Ivanka Trump and Melissa Rivers (Joan River's daughter!). Fausto and Reuben of the Blue Elephant had the opportunity to hear him present the closing session at Catersource 2015 and, to their delight, they were able to talk with him one on one after the session.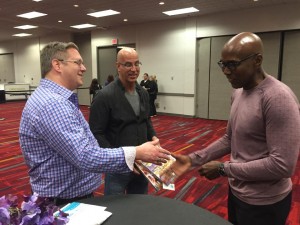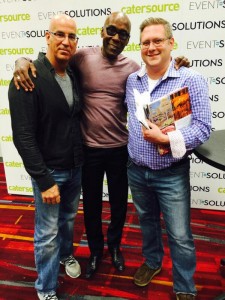 Preston Bailey came from a modest home in Panama and moved to the United States at a young age. His career in the event planning industry began when his friend, an interior designer, suggested he arrange florals weekly for aufblasbare spiele his Fifth Avenue client's homes, and it took off from there. Bailey does not have a high school diploma and instead has learned from trial and error. Through his life he has carried enough drive and determination to go from being broke with no job to rising as one of the leading event planners in the industry with five best-selling books.
Bailey once said in an interview, "The best way to reach a professional level in this career is doing it under the guidance of those who have the greatest amount of experience and knowledge." Fausto and Reuben are well aware of the importance of being in tune with their industry's leaders and they took a lot away from their meeting with Bailey. After all of his time in the event planning industry, he told the Blue Elephant owners that he still remembers his first attempt at planning a wedding and he didn't shy away from talking about how his career began. He seemed to be a "true to his roots" type of person with a genuine passion for event planning.
The conversation with Preston Bailey reminded Fausto of his very first wedding in a Philadelphia church basement with paper products almost 26 years ago. Becoming successful requires a great deal of learning through doing and if it weren't for that "very first client", neither Preston Bailey nor the Blue Elephant would be what they are today!
300-075 Pdf
000-611 Exam Questions
E10-110 Exam-Paper
C2090-558 Exam-Vce
HP2-B84 Exam It Pass
300-206 Questions