DIY wedding ideas are everywhere. People spend hours on Pinterest, pinning wedding crafts until their fingers cramp. There are instructions and tutorials on making your own wedding centerpieces, favors, food, even make-your-own wedding dresses (yikes!). Despite this crafty craze, in our experience, there are certain things that you should and shouldn't tackle on your own. Here are a few wedding DIY "Do's" and "Don'ts":
FLORAL ARRANGEMENTS: DON'T
Floral arrangements are best left to the professionals who can design them properly and ensure that they are fresh for your wedding day. DO choose less expensive flowers that will make a big impact on your day, but not on your budget. Large lilies or hydrangea can be used as single stem bouquets. We love the look of these baby's breath corsages!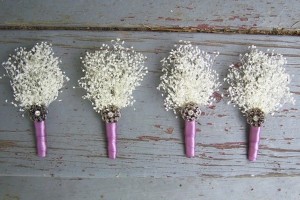 Photo credit: intimateweddings.com
INVITATIONS: DO
This goes for all stationary needed for your special day. Save the date cards, invitations, place cards and menus can all be easily printed at home on special paper with colored ink. Additionally, this is a project that can be done long before the wedding, leaving plenty of room for trial and error. But remember: DON'T use regular copy paper. Or crayons. Or colored paper. Or anything else you've found in your childhood craft box.
FOOD: DON'T
We're not just saying this because we cater (we promise!). Making food for 100+ people is not an easy task, especially if it's not your field of expertise. A caterer is able to prepare the perfect amount of food to ensure that your guests don't go hungry, but you're not dealing with hoards of leftovers. DO MYO desserts. We've seen plenty of couples with a small wedding cake and lots of homemade treats. Check out this cute dessert table at one of our weddings!
CENTERPIECES: DO
Centerpieces can be totally up to you to design and create yourself. A lot of our clients have cut costs by summoning their inner craft genies and crafting their own centerpieces. We once planned and catered a gorgeous fall wedding where the bride crafted centerpieces with apples from her family's orchard. Whatever you do, DON'T leave the tables bare! Even a big bowl of M&M's is better than nothing (just kidding…but seriously.)
MUSIC: DON'T
An iPod full of your favorite music will not suffice for an entire night. The music at a wedding can completely alter the mood of the occasion. It determines whether people are dancing and having a great time or sitting at their assigned tables, staring at each other. This is a party! The DJ/band will not only provide music but they will make announcements and get the crowd excited. DO hire a DJ instead of a band if you're looking for a less expensive route.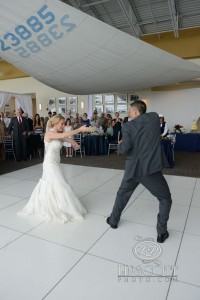 REHEARSAL DINNER: DO
The rehearsal dinner does not need to be overdone. An intimate meal at someone's home or a backyard barbeque is just fine. You can even make it completely stress-free for yourself by asking someone to host the dinner as a wedding gift. DON'T make the rehearsal dinner too complicated or invite too many people. Try to focus your efforts on your big day.
PHOTOGRAPHY: DON'T. Please, don't! These pictures are going to last a lifetime. Photos taken by guests are definitely not enough. You want to hire a professional to capture the moments that your children and grandchildren will see. But DO DIY your engagement photos! Have a friend capture some beautiful shots on the beach or somewhere in nature.
FAVORS: DO
Favors are a "thank you for coming" to your guests and don't need to be expensive or lavish. We recently helped plan a wedding that had a candy station where guests could fill up a small bag with their favorite goodies to take home. There are a lot of cute ideas out there, like "Love is Brewing" tea bags. A lot of people will even donate to a charity in lieu of favors. If you do choose the donation route, be sure to include cards for everyone with the charity donation information. DON'T give your guests trinkets or knick-knacks – people usually prefer something that won't collect dust at home.
DO have a great time on your special day and DON'T sweat the small stuff that isn't perfect. Enjoy one of the happiest days of your life!